Emily Maxwell, a former resident of Iowa City, competed in the Iditarod in 2018 and 2019. To date, she's the first Iditarod musher to list Iowa as her home state. Despite her current Alaska residency, Emily still considers herself an Iowan. Like her, you know there's something special about Iowa City. After all, it's why you made your home here. This thriving city has plenty to offer, no matter the season. From once-a-year festivals to outdoor activities, there's no shortage of thrills to add to your day. Take a look at this list of Iowa City winter activities — and mark your calendars. You'll be busy until spring!
1. Downtown Holiday Pop-Up Market
Want to shop local? You can do so at the Downtown Holiday Pop-Up Market. It's a great opportunity to spend an evening with friends and family as you shop for fantastic gifts from local stores. New pop-up shops are featured every weekend, so you have a great excuse to return again and again throughout the holiday season. And, if you prize the sustainable lifestyle, check out the Whoa Nelli Natural Cleaning Products shop from December 20th to the 24th.
2. Johnson County Winter Farmer's Market
For your seasonal shopping needs, visit the Winter Farmer's Market at the Johnson County Fairgrounds. On the first and third Sundays of every month from now until April, you'll find local produce, clothing, baked goods, beauty products, and specialty items on sale. The market will be open from 11:00 a.m. to 2:00 p.m. on each of those Sundays.
3. A Festive December Saturday
This is a combination of events you and your family may enjoy on a Saturday in December. This is the most holiday-focused of our list of Iowa City winter activities. Start with a free horse-drawn trolley ride. This annual activity is hosted by Hills Bank and Trust Company, and it's a popular one — so, be sure to get there as early as possible to purchase your tickets. You can expect the rides to fill up fast! The final Saturday for the trolley rides will be December 21st from 11:30 a.m. to 2:30 p.m.
If a horse-drawn trolley ride isn't your style, head over to Santa Saturdays at FilmScene. You and your family can take pictures with Santa from 11:30 a.m. to 2:30 p.m. The last Saturday for the event will be December 21st, so be sure to mark the date on your calendar.
After lunch in downtown Iowa City (which, by the way, boasts great restaurants), photo opportunities abound at the Downtown Teddy Bear Room. This free exhibit at the Hilton Garden Inn will feature more than 300 teddy bears from 10:00 am to 8:00 pm every day through December 24th. So, if you've had enough for one Saturday, you have the option of returning another day. Note that members of the public can purchase small and medium-sized bears on display starting December 21st.
4. Downtown Hunt for the Elves
Elves have invaded downtown Iowa City! There are more than 50 of them hiding at some of your favorite businesses. So, enlist your friends and family to find as many of them as you can between now and January 1st, 2020. Print a card (or pick one up at a participating business) to help you track which elves you've discovered. After you've found at least 10, turn in your card at the Iowa City Public Library Children's Room, The Englert Theatre, or Iowa Book. You'll receive a prize and be entered for a chance to win a grand prize basket.
5. Beat the Bitter
Beat the Bitter isn't just one event — it's a series of events beginning in January to help us kick off the new year. Overall, Beat the Bitter will be one of the most exciting Iowa City winter activities you'll have the pleasure of experiencing. Take a closer look at the line-up:
Igloo Jam (January 25th): This adults-only concert features The Pork Tornadoes, a Cedar Falls-based band that has played more than 700 shows in the last 12 years! Your ticket includes a free drink, and a bar will be available for additional beverage purchases. Tickets are only $25.00 if you purchase them in 2019; they go up to $35.00 when the calendar turns. So, get your tickets as soon as possible: there are only 350 available. Doors open at 8:00 pm for the 8:30 p.m. show. Best of all, the sponsors have partnered with Big Grove Brewery to offer a special small-batch release at the Igloo Jam: Wheat the Bitter.
5k-ish Obstacle Run (January 26th): Three loops through Penn Meadows Park will feature a variety of fun and challenging obstacles. The race can be as competitive as you want to make it (or not), as you won't be officially timed. Participants will receive a medal at the finish line, and there will also be a costume contest! The best group or individual costumes will receive prizes, like gift cards to SCHEELS. The event cost is $15.00, but you'll pay $20.00 after January 1st. If you procrastinate, you can still enter on the day of the race for $25.00. The race will start at 2:30 p.m.
Fire & Ice (January 26th): Come for the obstacle run, but don't head home immediately after. Instead, stay for Fire & Ice! This free family event starts at 3:00 pm and features ice sculptures, fire performances, ice skating, and a winter fireworks show.
Winter Games (February 1st): The Curling Tournament starts at 9:00 am, the "KICK Winter in the SnowBALL" tournament starts at 10:00 am, and the Broomball Tournament starts at 11:00 am. Registration is required. Once you sign up, get your team together and start practicing. If you have no idea how to curl but want to participate in the curling tournament, attend the free Learn to Curl event the night before and you'll be ready to go — or at least as ready as humanly possible, given the short notice.
Snuggie Crawl (February 1st): Unfortunately for non-ticket holders, this event is already sold out! We recommend getting on the email list for 2020 so you can get your tickets as soon as they go on sale. This year, tickets sold out in 27 hours. The Snuggie Crawl is an epic bar crawl; a free shuttle will take you between participating locations from 7:00 p.m. to 12:00 a.m. so you can enjoy the drink specials and games at each location — all while wearing your favorite sleeved blanket. It's the best of both worlds: bundled up and enjoying a night out on the town.
6. Coralville Winterfest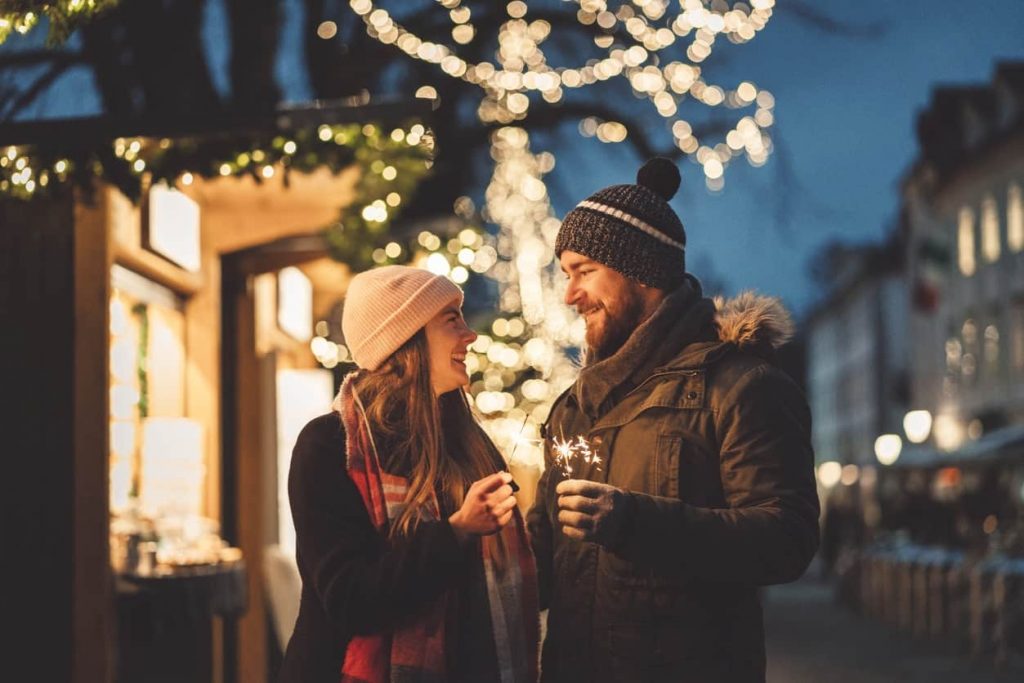 Coralville's Winterfest 2020 will be held on January 12th from 1:00 p.m. to 4:00 p.m. There will be live entertainment and a wide variety of activities: games, crafts, birdwatching opportunities, horse-drawn trolley rides, face painting sessions, a silent auction, an indoor snowball fight, STEM educational activities, and musical performances. All activities are free. However, you can also bring canned food items to participate in the food drive to benefit the Coralville Community Food Pantry. Be sure to check the website for more details as the event approaches.
7. Orchestra Iowa's "Pops at the Paramount"
There are still several incredible shows left in the "Pops at the Paramount" series: three performances of the "Holiday Spectacular" (December 20th, 21st, and 22nd in 2019), two performances of "Disney in Concert" (2:30 p.m. and 7:30 p.m. on February 22nd, 2020), and one performance of "The Music of Queen" (May 16th, 2020). Of course, Arts Iowa maintains a wonderful schedule of performances, from jazz to comedy, all winter long. Best of all, the Paramount Theater is less than 30 miles from Iowa City. An evening with the orchestra makes for a great dress-up date or fun family outing. Where Iowa City winter activities are concerned, this one is sure to put a smile on your face.
8. Hiking and Outdoor Sports at F.W. Kent Park
If you'd like to stave off cabin fever this winter, don't stay holed up at home. Instead, take advantage of those clear winter days to hike across F.W. Kent Park's network of trails. This popular park is also a great place for sledding, snowshoeing, or cross country skiing. If you're an angler, ice fishing opportunities are also available. So, breathe in the fresh air and enjoy the outdoors this winter. It makes the hot chocolate taste even better when you get home!
For more outdoor fun, go ice skating at the Terry Trueblood Recreation Area. Remember to call 319-356-5100 in advance to make sure the lake is safe for outdoor skating.
9. Film Festivals and Live Performances in Iowa City
On January 24th and 25th, 2020, treat yourself to a selection of short films highlighting our connection to nature. If these films don't inspire you to make another winter outdoor date at F.W. Kent Park, nothing will! There will also be a raffle with fantastic prizes and the featured speaker will be Iowa City's own Kelly Teeselink, an avid trail and ultra-runner with an impressive running resume.
For more movie viewing, check out First in the Nation Film Festival on January 13th, 2020, at FilmScene. This first-of-its-kind event will feature short films focused on current issues — and, most importantly, potential solutions — for political, economic, environmental, and social justice concerns in Iowa. If you're as much a filmmaker as a film watcher, submissions for this festival will be accepted until December 20th, 2019.
For live performances, check out Riverside Theatre and The Eglert Theatre. Riverside always puts up an incredible season, while Eglert hosts a unique lineup of musicians, singers, and comedy performers.
10. Escape Rooms in Iowa City
When it's too cold to be outdoors, take your adventure indoors … to an escape room. Outfox Escape Room is located in nearby Coralville. With three rooms available — Beginner, Intermediate, and Hard — you'll be busy for a while! Note, however, that you'll have just 60 minutes to solve a puzzle, so be sure to get your best team together for the challenge. You can also book a room for private events and team-building events. When you're ready for new challenges, check out the escape rooms in Cedar Rapids and Lisbon.
If the above Iowa City winter activities have whetted your appetite for exploring the region, you're in good company.
The Blank and McCune team lives here, too. In fact, some of us were born here, and we love staying active in the community. We've also attended many of these incredible events, and we're looking forward to enjoying them again this winter. Contact us if you have any questions about our list above. Maybe we'll see you there!